APRIL,is my most busy month.
Although I was busy felt like wanna died,
but it's very meaningful!!
Yup.....
as I mentioned before...
I was busying in TC event which is CHARITY WEEK.
Now,I would like to talk about the process of charity week event...hehehe(excited-ing)
Yaya,it's taking a lot of time to let me describe....
So,please be patient to read finish this post!haha
Our Charity Week had three event on that week which are food fair in the morning,
Malaysia Fair which describe about some tourist places in Malaysia and the last event is night market.
And, I was one of the commitee in Malaysia Fair,hehehehe~
Before started Charity Week,we had a 3 days of workshop for preparation of Malaysia Fair.
In Malaysia Fair,we had 3 themes which are advanterous,city,and island.
Besides that, we also have a board which is about our TC.
There had a lot of pictures about our TC memories...**sweet and warm**
To attract people,we need to had design the board more attractive.
I'm the one to do the design of these 3 board.
Luckily,there had a lot of geniuses in TC...the result was out of my expection,
because there are very beautiful!!hehehe♥
Thank you all the guys who helped at that 3 days.
Oh ya,we also did a lot of effort to promote our event.
Here,I want to say that...our head of publicity is a pro person!
The poster...fyers...all was designed by him.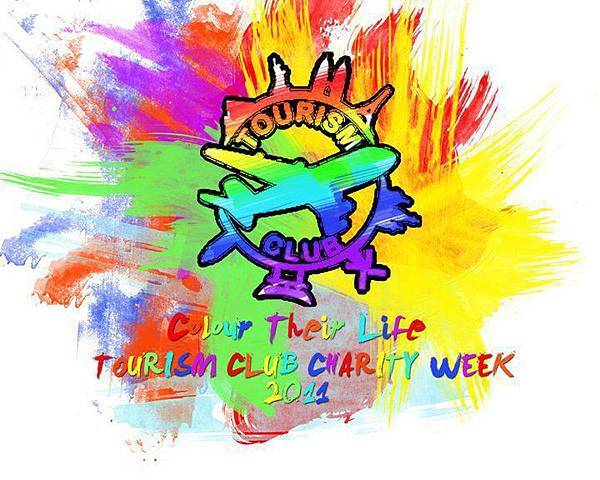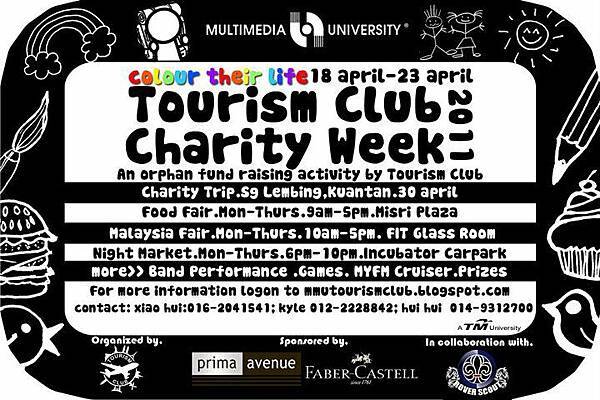 very cute,right?hehe
And,we also had a promote video...like it very muchie!♥
18 April,Charity Week was started!!!hurray~~~~~~**boom boom boom**
I felt very excited because this is my first time participate open ceremony.hehe~
Our Charity Week was held on 18 April until 21 April.
On those 4 days,it happened many kinds of problems like...heavy rain.
Gosh,it influence our night market.
But,luckily there still have a lot of people come to support us after rain.**touch~~
Talk back to Malaysia Fair,i think it can count as succesful..?
Because had a lot of people come in to visit and those feedback are quite nice.
I felt sastifaction,haha~
But,i was grudge the boards that we designed....:(
Next,Night Market!!!
Our night market was different with others.how to say?
Because..beside selling the foods,we also had band performance!
it was nice!!!!
shawn,khoo,peggy,and linda...were one of them to perform~
They are really have a nice voice to sing!love it ♥
Besides invite outside venders to join us,we also open a lot of booth,hehe.
We sold bubble tea,sweet corn,egg tart,slipper,and fried rice.
After finish our Charity Week,all the fund we collect will give to an orphanage in Cheras.
Those kids are cute,but have a bit naugthy,hehehe~
Most of us were thinking about our children in the future..felt scare at all..haha!
Our event haven't officialy finish after visit orphanage,hehe.
The last event is...Sungai Lembing 2 Days 1 Night trips!!!!!!!!!!!
It will be update soonnnnnnn.......xD
Lastly......
I want to talk about my impression about this event....
First,I really learn a lot of things in this event.
And,I realised that communication act an important role all the time.
Sometimes,due of this event is a big event...it has a lot of commities...
so,we always get a lack of communication.
Although I feel very tired to prepare and participate this event,
but it is worth!Because I know that I'm doing a good deed in my life.
When I went to orphanage,I saw the things we sponser and those kids smile to us...
I felt very touch,all of my tired gone suddenly.
Yup,i felt very happy that I can join this event.
Thank you TOURISM CLUB!!!:)
I ♥ TC
**Thinking of what???
Do you realise something in my blog???O.o
hahahaha~~
Yup,I'm trying to write an english blog....
I think that...
this may be a chance to let me improve my poor english.
So,I will try my best to improve my english!!!
Everyone just leave comment to make correction for me!
Your feedbacks and comments are appreciate:)